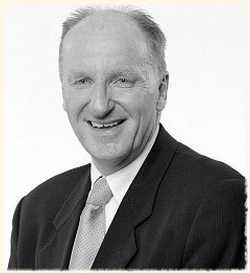 Liverpool-born Alan Parry is one of the UK's most notable sports commentators, with an incredible career spanning 3 decades that's taken him to the very top of his profession.  From the height of European football to international athletics meets, Parry has been there and seen it all, keeping millions of fans worldwide entertained since 1973, and engaged with the highs and lows of professional sport over the years. Injecting his own personality and vast sporting knowledge into his many commentating roles, Parry has become famous the world over for his insightful commentary and warm personality.
Born in 1948, Parry grew up in the Garston region of the city and had a passion for football from an early age.  His keen interest in sport and unique personality helped him secure a position at BBC Radio Merseyside – his first media role – which gave him the opportunity to hone his skills in preparation for bigger things.
Parry is perhaps best known for his role as a football commentator, playing both first and second commentator over the years for a range of domestic and international fixtures.  Signing up to commentate for the BBC in 1973, Parry quickly began providing commentary for England's international matches, in covered a series of notable, prominent fixtures including the final of the European Cup in 1975 and the FA Cup in 1976 respectively.
Perhaps Parry's biggest achievement came with his role in the 1990 World Cup in the USA, when he was first elevated to providing English commentary on football's biggest international stage.  After a successful performance in the World Cup, Parry continued with his coverage of leading international events, including a primary commentary role during the Euro '96 tournament, and high-profile Champions League fixtures up until 2007. At present, Parry continues to commentate for Sky One on football and athletics events, including for his beloved Liverpool FC broadcast in foreign territories.
On top of his commentary of some of the biggest football fixtures in recent years, Parry has been a frequent presence on BBC Radio for the Olympics, providing coverage for three Olympic games from 1976 to 1984, before retiring to join Match of the Day in 1981.  After leaving the BBC for ITV, Parry returned to commentating on athletics after ITV began its coverage of grand prix events, before then moving to an athletics commentary role with Sky TV in 1997.
In addition to his celebrated career in football and athletics commentary, Parry has also recently become involved with the re-launched Gladiators, taking over from John Sachs who commentated for the show during its original incarnation.  Under Parry's commentary, Gladiators has become a cult success for Sky One, playing on the nostalgia factor dating back to the show's original run in the 1990s.
Alan Parry is one of the front running sports commentators, with an illustrious career in which he's reached the pinnacle of sports commentating across both athletics and football's premier events.  A renowned Liverpool FC supporter, Alan Parry has stayed true to his Liverpool roots and remains to this day one of the city's favourite sons.