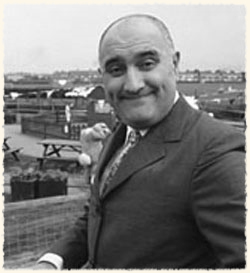 One of the defining comics of the 1980s, Alexei Sayle is perhaps one of Liverpool's most famous sons, enjoying a long and successful career in comedy, drama and writing.  A celebrated stand-up comedian, Sayle is renowned for his bald head and suit, and an act that has been described as similar in style to Monty Python through his outlandish but intelligent approach to comedy.  Born in 1952 in Anfield, Sayle was raised by working-class parents with connections to the Communist Party, and his exposure to extreme left ideas would later help shape his cynical comedy routine.
His early life saw Sayle move to London to study art and design, a stage of his life that gave birth to his early comedy routine that would see him grow in prominence to become one of Liverpool's most famous entertainers.  After sell-out performances at the Edinburgh Festival, Sayle was picked up in 1980 by Martin Lewis, an influential comedy promoter, who helped take Alexei's career to the next level.
After playing the comedy club circuit for a number of years, Alexei went on to create a comic radio series for Capital Radio, from which a number of offshoot projects would emanate, throwing Sayle in front of a more mainstream audience, including comedy records, a stage show, TV series and even a couple of music videos.
While continuing to entertain large audiences throughout the 80s, Alexei was cast in the celebrated sitcom The Young Ones, which went on to become hugely popular, with a dedicated cult following, based around a group of students.  Playing the Landlord, Sayle was to contribute material of his own creation to the sitcom, and has been described as being particularly influential in helping The Young Ones reach its pinnacle in the mid-1980s.
In addition to his comedy, both on screen and on radio, Alexei Sayle is also a published author many times over, with five novels, a graphic novel and a collection of several short stories to his name, helping establish Sayle as an all-round entertainer and one of the nation's best loved personalities.
On the political spectrum, Alexei Sayle has been particularly outspoken, and himself joined the UK's Communist Party in the 1970s.  Likewise, he has attended frequent public demonstrations and used his fame as a platform for espousing his own political opinions.  Nevertheless, in a recent poll commissioned by Channel 4 on the 100 Greatest Stand Up Comedians, Sayle came 18th, reflecting his popularity and the affinity shared for his comic stylings by the UK population.
While recent years have seen Alexei fall out of the limelight as far as TV work is concerned, he has nevertheless been responsible for a few documentary-style programmes, including a three-part look at Liverpool and its culture.  He also writes regular columns for various UK publications, and continues to reach extensive audiences on radio (particularly on BBC Radio 4) with his unique presenting style.  As such, Alexei remains one of the most popular Liverpool personalities, and looks set to continue to entertain fans nationwide for many years to come.