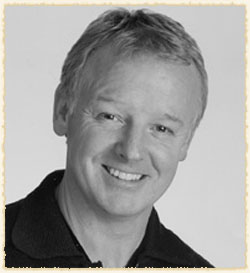 When we think of Les Dennis, it's almost impossible not to conjure images of his successful stint as presenter of Family Fortunes, keeping the nation entertained at prime-time for some 15 years as ordinary families battled it out to win cash prizes.  But Les Dennis has played a much more influential role in modern light entertainment than would first seem to be the case, involved in a multitude of projects over a glittering 35 year career, making him a worthy candidate for the title of Liverpool's most successful TV personality.
Born in Liverpool in 1953, a young Les Dennis had aspirations, not in entertainment, but in football.  After playing at boys' club level, Dennis was signed by Liverpool FC for a number of years, and while never registering a game for the first team, spent several years on the books of one of the country's most successful football teams.
His first foray into entertainment came on the stand-up circuit, playing to working mens' clubs across Liverpool and the surrounding areas.  After 6 years of active comedy service, Dennis met Noel Edmonds, with whom he would devise the concept for Noel's House Party, a hugely successful light entertainment show that would finally be realized in 1991.  While his partnership with Edmonds would break down before the show aired, it nevertheless gave him a taste for success with the format, and Dennis went on to perform with Russ Abbot and Dustin Gee prior to landing his presenting role at Family Fortunes.
It was with Family Fortunes that Les Dennis really reached a significant audience.  Presenting the hit show from 1987 to 2002, Les was welcomed into the homes of millions of viewers each and every week, propelling his career and positioning Dennis as one of the hottest tickets amongst television audiences. With his own unique approach and catchphrases to accompany his role, Dennis made Family Fortunes his own and it remains to date his seminal work.
Dennis also made a surprising appearance on Celebrity Big Brother, during his high-profile separation from actress Amanda Holden, an appearance he is later thought to have regretted.  That aside, his work in film and TV thereafter has helped shore-up his career, and cement Dennis as a legend of entertainment.
In addition to his work on television and film, Les Dennis has also made countless appearances on stage and as an actor in hit TV shows like The Bill and Hotel Babylon.  Starring in a number of hit musicals (including Chicago and West Side Story) and successful runs in the West End in London, Dennis has proven himself to be a versatile entertainer with a timeless appeal that will ensure longevity in the coming years.
Les Dennis has been the face of family entertainment for decades, and while his career at present sees him less involved in the world of TV, he is nonetheless a leading light on the Liverpool entertainment scene, and one of the most successful television personalities of the 20th century to hail from Liverpool.